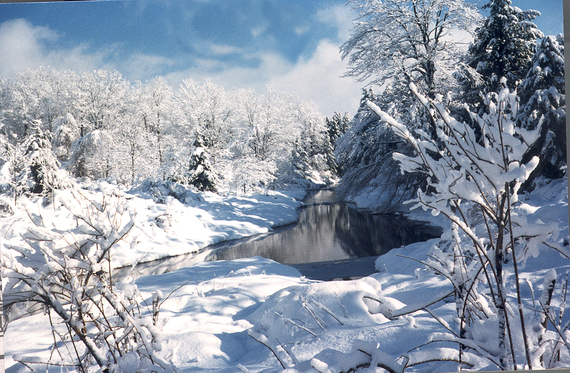 Image courtesy of PoconoMountains.com
Cold air rushes at me, and I gulp, desperately drinking in oxygen to appease my shocked lungs. I want to scream, but I remember, I'm on camera and I've been advised to smile and appear unnerved. "Grab his feet!" I hear my instructor Tony shout, and as I hang on to August, the skydiving cameraman's ankles, we're suddenly swinging around, horizontally, like the Flying Dutchman at a theme park, nearly 14,000 ft from the ground, and I'm screaming – I've never felt so terrified, yet so exuberantly alive in all my life.
I'm tandem skydiving with Sky's the Limit skydiving centre, over the Pocono Mountains in Pennsylvania and as we gently glide towards the earth, post freefalling, it's easy to see why jumping out of a plane can become an addiction. The sky is a sheet of blue, just speckled with the odd lazy cloud and the colours of Autumn painting the Pocono mountains, glisten vividly in the afternoon sun. It's a stunning scene and my seat, high up in the clouds proves a satisfyingly serene spot for viewing it. As we land, I'm already thinking about doing it all over again. I can't imagine a better way to enjoy the Pocono Mountains.
Just 75 miles from New York and 85 miles from Philadelphia, the Pocono Mountains make for a convenient retreat and with so much to offer throughout the seasons, from outdoor adventures, fine dining, shopping and pampering, it's a destination that can be enjoyed by all. And after several weeks touring major US cities, spa treatments and skydiving with my friend Sabrina (thescienceofstyle.com) seem the perfect leisurely escape before my flight back to London, from New York.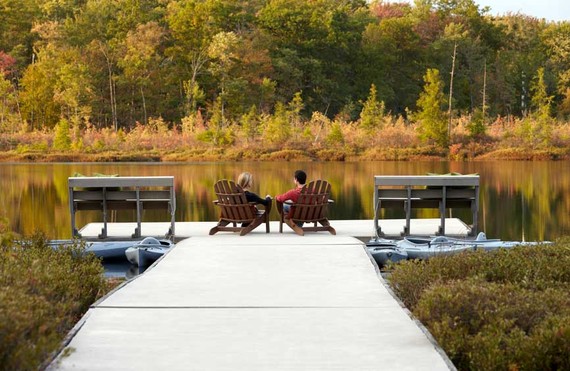 Image courtesy of The Lodge at Woodloch
The Lodge at Woodloch, a luxury destination spa in 150 acres of pristine woodland with its own lake, is our weekend retreat in the Pocono Mountains. Neither of us know how to drive and we soon discover it'd be a pain to get to the Lodge using public transport, but we're in luck, as The Lodge at Woodloch offer a chauffeur service. So on a Friday evening, all tucked up in blankets in a luxury SUV, with mineral water and snacks to sustain us during the ride, we leave the madness of NYC for the tranquility and sweet air of the Pocono Mountains.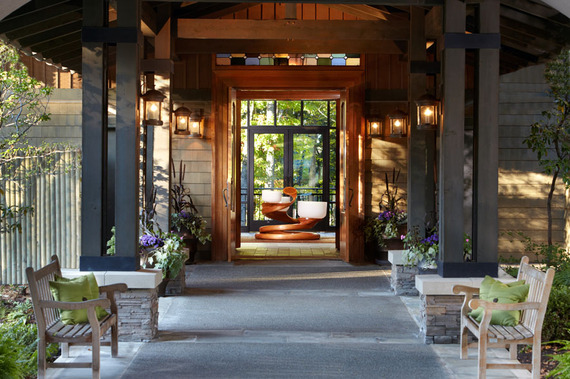 Image courtesy of The Lodge at Woodloch
The atmosphere throughout The Lodge at Woodloch is warm and embracing. The property is effortlessly immersed into its woodland surroundings; the floor to ceiling windows unite the inside with the outdoors, the dark wood furniture, wood beams and abundant flora allow a seamless transition of the natural surroundings, outdoors to in. On arrival, we spy oversized chakra bowls which, when rung are supposed to create sounds and vibrations that resonate within the individual – I'm not sure they work, but we find them to be fun to play with during our stay.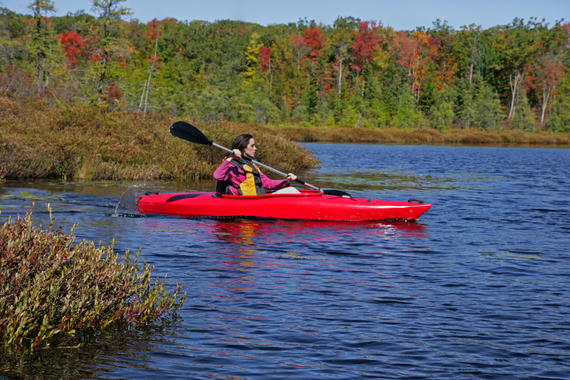 Image courtesy of The Lodge at Woodloch
Each guestroom has a balcony and ours overlooks the vast woodland and the dancing fire-pit that invites guests to gather around at night, share stories and enjoy the sounds of whispering trees. In the morning, we take a leisurely walk through the woods and stumble upon the small lake (faux ducks included!), which is as colourful as its surroundings, reflecting the vibrant colours of the pristine blue sky and the reds, oranges, purples and yellows of the bordering trees. Guest are invited to an evening kayaking gathering, but since we're already at the lake on such a glorious morning, we decide to kayak on our own (we're adventurous like that). Later, we discover our decision to go it alone is well made; the group kayaking under an instructor in the evening look painfully bored, as they spend an hour stationary in their kayaks mostly learning about the lake rather than kayaking.

Image courtesy of The Lodge at Woodloch
With therapeutic soaking pools, hydro-massage WaterWalls, an indoor activity pool, an infinity edged whirlpool, a dreamy post treatment Whisper Lounge and a delicious menu of spa treatments, The Spa at Woodloch is a sanctuary for the senses. To cater for all your fitness needs, the retreat has an expansive windowed cardio/weight training studio, spinning room and fitness studios offering an array of classes, from yoga and meditation to ballet barre and Bollywood dance. If you prefer getting fit in water, try the intense Aqua Boot Camp and several other water based exercise classes.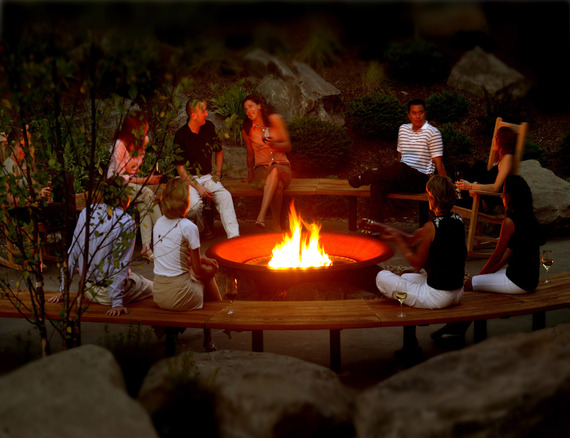 Image courtesy of The Lodge at Woodloch
After the excitement and shock of skydiving at Sky's the Limit, we decide to take it easy the next day, starting with the invigorating Ballet Barre class, followed by a leisurely breakfast, a walk through the calm woodland and an afternoon of relaxation at the spa. I'm having the Lotus Cleansing treatment, which begins with a deep cleansing mineral rich mud wrap, followed by a soak in spa thermal waters continuing the purification and finally, a full body warm stone massage inviting deep relaxation and renewed energy. My facial is sublime; a signature facial that begins with an in-depth skin analysis to create a customized facial experience. The esthetician uses a pumpkin exfoliate and organic serums and moisturisers to repair and hydrate my skin, leaving my face feeling soft and supple and looking flawless.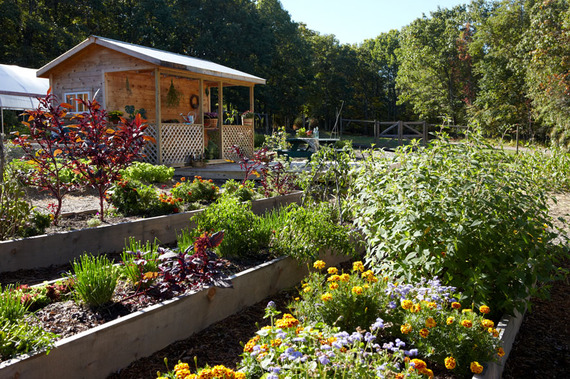 Image courtesy of The Lodge at Woodloch
Food at The Lodge at Woodloch is something that's taken very seriously at the retreat, so I'm told before our arrival. The property has three functioning gardens on property and the chef team focus on only starting with the best ingredients. All package stays include breakfast, lunch and dinner and the retreat also offers cooking demonstrations throughout the week, making for a dream escape for any foodie. By the end of our stay however, my friend and I are decisively disappointed by much of what we've eaten; the fish, vegetables and meat have been overcooked on more than one occasion, the dishes have been under-seasoned, the desserts unremarkable and we could swear the 'amuse bouche' at dinner was once one of the salads we ate at lunch, just arranged in a small glass.
But even with food being dissatisfying, we're sad to leave this delicious retreat. There's so much more on offer that we haven't been able to experience; the popular art classes, the garden program, Forest Bathing and the Bog-ucation Program. And as we are driven away from the natural beauty of the Pocono Mountains, I hope to return soon.
Tandem Skydives at Sky's the Limit start from $195
https://www.skysthelimit.net/jump-packages/
Group packages at The Lodge at Woodloch start from $299 pp per weeknight on the Intro to Spa Plan.
http://www.thelodgeatwoodloch.com
Learn more about the Pocono Mountains at PoconoMountains.com