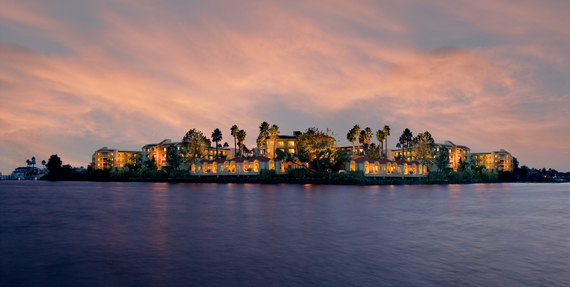 Image courtesy of Loews Coronado Bay Resort
Never judge distance by simply looking at a map. It's what I did and it's why I've spent an entire weekend mostly marooned on a hotel resort, with no way to leave – well, unless you drive and have a car or are able to throw money at taxis. I don't drive and after two weeks in SoCal, I'm realising just how fast my funds are evaporating and getting taxis to anywhere except the airport would be an unjustifiable indulgence. Coronado Island is much bigger than I had imagined and getting to mainland San Diego from its Coronado Bay area is no easy feat. I've asked several staff if there's an alternate way to get to the mainland (public transport, perhaps?) and I've been told a taxi is my only option. A quick Google search and I discover there's a bus that will take me to downtown San Diego and the bus stop is but a 15-minute walk away. It takes just over an hour on the bus to get to downtown San Diego, which isn't ideal, but I'm determined to see at least a little of the city. It's only when I return to the hotel that I understand why the staff feign ignorance of the bus service to the mainland; the returning bus stops on the busy highway, lit only by car lights and as meander through the traffic, I wonder if I'm going to make it to the other side. Having crossed the highway, I'm left with the task of finding my way to the resort through the remote darkness – the most terrifying 15 minutes of my life.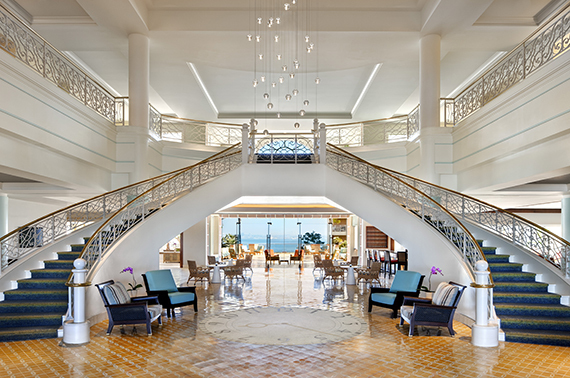 Image courtesy of Loews Coronado Bay Resort
I'm staying at the immense Loews Hotel resort on Coronado Bay. Loews Coronado Bay lies within the seaside community of Coronado on Crown Isle, a private 15-acre peninsula that feels eerily secluded; without the single road that leads to the highway, Crown Isle could be an island all on its own. The property itself feels like an enclosed city, with several buildings featuring 439 rooms & suites. Even with so many rooms though, the hotel manages to provide guests with spacious rooms all with a view, be it of the pool, the garden or the marina. My marina view is especially lovely, providing a quiet retreat from the hustle and bustle of the rest of the hotel. And my room is decorated in typical Loews style; with sea and sand colours and rattan and walnut furniture. The bed is huge, with a seriously comfy mattress.

Image courtesy of Loews Coronado Bay Resort
Breakfast at Loews Coronado Bay can be taken at the Market restaurant. With its huge windows, the space seamlessly allows the natural scene of the waterfront indoors. But it's nothing special; the plastic chairs, diner style cubicles and brightly patterned seat covers recall images of restaurants at motorway services and airports. Nonetheless, having enjoyed good food at the Loews Hotel in Santa Monica, I'm expecting great food at Market. I want to say good things about breakfast, but much of my experience is not so. It takes a while to get the attention of the waiting staff and when I order a smoothie off the menu, I'm told "we don't do smoothies". I look back down at my menu, to make sure I'm not going crazy and imagining smoothies, where there are none, and behold, the menu does in fact assert that smoothies are definitely an option. But as I lift up my menu to show the waitress, she's already left, leaving me to yet again begin the game of catching the staff's attention.
Eventually, I'm presented with my breakfast, which I've worked far too hard to order. My strawberry and banana smoothie is lovely, the coffee tastes burnt and is undrinkable (I later discover it's Starbucks coffee – well that explains it) and my eggs benedict with salmon looks like it's been slapped on to the plate by an angry chef and is mediocre in taste.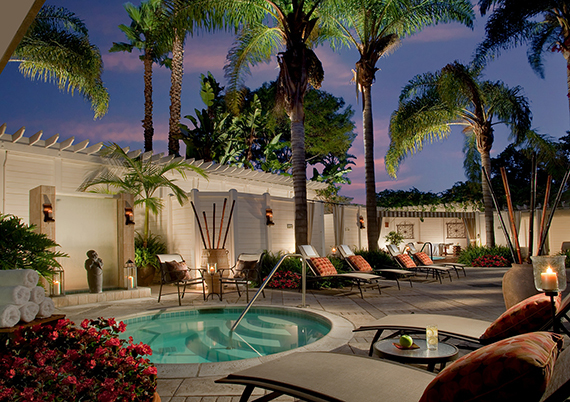 Image courtesy of Loews Coronado Bay Resort
Post breakfast, I have a spa treatment scheduled at Loews' Sea Spa and I'm super excited to enjoy the Gifts of the Sea body therapy that promises glowing skin and rejuvenation. Registration is quick, easy and friendly and then I'm lead to one of Sea Spa's 'luxury treatment rooms'. I find the room to be far from luxurious however; pale tiles cover the walls of a dreary room, a narrow massage bed resembling a gurney sits in the middle of the floor and various steel accouterments furnish the space.
The bed is cold under my bare skin and though I'm covered with a sheet, I find myself shivering. The enthusiastic therapist talks me through the treatment; I'll receive a full body exfoliation using raw sugar crystals and coconut oil, followed by a cocooning wrap and a warm Vichy Shower experience and finishing with a Lomi Lomi massage. The scrub smells delicious and I find myself beginning to enjoy the treatment. I barely notice the wrap and then I'm being gently washed with the Vichy shower. "Isn't this luxurious?" the therapist asserts and though the sensation is indeed enjoyable, the temperature is more luke-warm than comfortable and even when I request a higher temperature, the water doesn't quite make it to the comfortable stage and I continue to shiver. At this point, I'm actually wishing for the treatment to be over and just when I'm thinking things can't get any worse, as I begin to turn over onto my back, I spy the door opening and a face peaking in before disappearing, having realised the room is occupied. I'm horrified and even when I'm moved to a room next door for the massage, I can't relax for fear of intruders.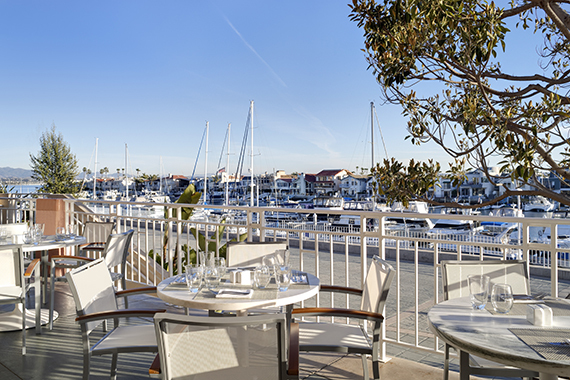 Image courtesy of Loews Coronado Bay Resort
With a spa and fitness centre, three swimming pools, plus whirlpool, tennis courts, motorboat, sailboat and bicycle rentals and various dining options at the resort, including fine dining at Mistral, casual fare at Market and tapas style bites at La Cantina, guests will find many of their holiday needs catered for at Loews Coronado Bay. It's perfect for families with children and guests who would prefer not venture away from the hotel. The resort even boasts a host of boutiques, in case you desire a spot of shopping but don't want to venture too far from the pool or bar.
There's a lot to Coronado Island I'm sure and certainly much more to San Diego, but hopefully you'll be much smarter than I when you visit, and actually enjoy your stay – budget well, be more organised and know how to drive!
Explore the Loews Coronado Bay Resort http://www.loewshotels.com/Coronado-Bay-Resort